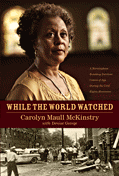 Imagine your world being turned upside down when you are fifteen years old by the death of four of your closest friends. Imagine knowing that your friends died because of the hate that people have toward you because of the color of your skin.
That is the reality that Carolyn Maull McKinstry found herself in as a young black girl growing up in Birmingham, Alabama during middle of the Civil Right Movement .She vividly shares what it was like to be a young girl in the middle of this tumultuous time, sharing both the facts of the story and how she felt as a young girl in this time. McKinstry share what her life was like both before and after the bombing that killed her four friends in an honest and humble way. McKinstry was touched the powerful words of Dr. Martin Luther King Jr., and shattered by the deaths of Dr. King, President Kennedy and Robert Kennedy. It is a powerful story of the breaking and the healing of one woman, one city and ultimately, one nation. And through all of it, she is clear that the only thing that helped her survive was her faith.
Since I did not experience the world before the Civil Rights Movement, I found the information about that time very interesting. McKinstry mentions many of the main events of the Civil Right Movement which could lead to further inquiry about those events. I appreciate McKinstry's honesty about her emotions. She is a normal girl who lived through some extraordinary circumstances. While not on the front lines of the movement as a teenager, I enjoyed seeing how she grew up and matured to be a woman who took a lead in the movement to remember the events of the Civil Rights Movement in Birmingham. I sometime found the jumps in time a bit difficult to follow, but overall this was a very interesting and engaging read. As a former teacher, I could see this book as an interesting text in a high school classroom. I would recommend this book to anyone who is interested in learning more about this time in US history or is interested in continuing to make sure that justice is found in the world.
Disclosure of Material Connection: I received this book free from Tyndale House Publishers for review purposes. I was not required to write a positive review. The opinions I have expressed are my own. I am disclosing this in accordance with the Federal Trade Commission's 16 CFR, Part 255