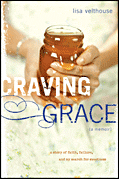 The basis of faith is grace, the greatest gift we have ever been given. Yet grace is something that is hard to understand and even harder to accept. In Craving Grace, Lisa Velthouse shares what she has learned about grace.
Craving Grace
covers two time periods in Velthouse's life. The first is a time when she went on a six month fast from sweets to try and understand how God is sweet. During this fast, Velthouse feels like she is failing in so many ways, and in one instance she shocks herself with how far she has fallen. The second is a time that is more in the present when Velthouse is working on this book and sorting through what she has come to know about grace. She becomes part of small group at her church that takes a challenge to learn what it really means to live in community.
As soon as I finished reading Craving Grace, I told my husband that this was

book that I felt I needed to read again to fully grasp everything Velthouse is saying about God and grace. This is not a bad thing at all; I am looking forward to reading it again. Velthouse's writing style is fresh and intelligent, which I really enjoyed. The first time through, I was caught up in her story and so I read it quickly. Now that I know the story, I believe that I will be able to read her story looking closely at what she learned through her fast and falling. I want to spend time savouring her writing and the lessons that she learned. At times, I did find the jumps between the two different times periods and little difficult to follow and I couldn't really see how they fit together until the end of the book.
I highly recommend Craving Grace if you are craving to learn more about God and his grace.
Disclosure of Material Connection: I received this book free from Tyndale House Publishers for review purposes.

I was not required to write a positive review. The opinions I have expressed are my own. I am disclosing this in accordance with the Federal Trade Commission's 16 CFR, Part 255