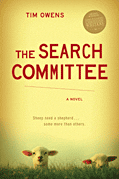 There are times in life when we are seemingly thrown together with a group of people that we do not know or have anything in common with. Whether it be a small group at church, colleges at work or a committee at school, it can be amazing what a random group of people can accomplish. And often, within that group of people, it becomes clear that they really do have things in common and need each other to make a difference in this world.
A seemingly random group of people find themselves together in The Search Committee by Tim Owens. This group has been put in charge of the task of finding a new minister to lead their church congregation. By spending many Sunday's together traveling to different churches to meet and listen to different ministers, the members of this committee learn a lot about each other. And through some challenge circumstances, they come to rely on each other.
I enjoyed reading The Search Committee because it was a book at felt at home in it. I could see myself and members of my church as the characters. I know what it is like to be put in this situation like this. I found the book very real and relatable. I think it is one of the better books I have read in a while.
Disclosure of Material Connection: I received this book free from Tyndale House Publishers for review purposes. I was not required to write a positive review. The opinions I have expressed are my own. I am disclosing this in accordance with the Federal Trade Commission's 16 CFR, Part 255