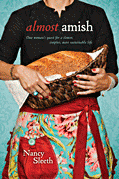 The Amish is a society that have always intrigued outsiders. While reading Almost Amish, I was surprised by how much I really have in common with them and the way that they live.
Nancy Sleeth and her husband are committed to living a life of simplicity and one that is good for the Earth. In pursuing this, Sleeth has come to realize how much the life she and her family leads is like that of the Amish. The aim of Almost Amish is to show good that can be found in the principles of the Amish life and how those of us who are not Amish can apply these to our own lives.
Sleeth focus on ten different principles that range from keeping a home clean and simple, to knowing your neighbors, the use of money, the importance of family and the importance of faith. She gives the Amish background and examples for each principle and then gives tips on how to be "almost Amish" in our own lives. These are all very practical and simple things that everyone can do with a little bit of effort. The book ends with a selection of recipes that I am eager to try.
As I said, I was surprised by how much I have in common with Amish. We try to live a frugal life and stay out of debt. We don't have all of the latest and greatest toys or technology to distract us (or even a TV for that matter). Family is important and we live quite close to my husband's family. We are famers, so we value the land and what it takes to be a part of producing food for the world. And our faith is the most important thing. I appreciated Sleeth taking the time to show how the principles of the Amish, a people who's way of life can seem so foreign to us, are really ones that many people already live. And if everyone followed them, the world would be a better place. I will continue to go back to this book to try and continue to make my life a little more like the Amish.
I received this book from Tyndale Publishers. All of the opinions are my own.