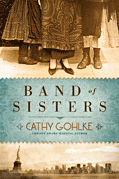 Starting over. A new life. Better than before. Those were and are the hopes and dreams of so many immigrants throughout the history of the United States. But, so often, these dreams were not realized. And in some cases, the new world brought even more horror. And the worst horror of all is that it is still happening today.
Band of Sisters
by Cathy Gohlke is the powerful and riveting tale of Maureen O'Reilly and her sister Katie Rose. Running from a shameful and difficult life in Ireland, with both of her parents dead, Maureen is looking to start a new life in America. All she wants is to find a respectable job and take care of herself and her sister. Another young man from her home town, Joshua Keeton sails to America on the same ship as Maureen and her sister. He offers to help and watch out for the girls, but Maureen wants nothing to do with him. She soon regrets that decision as she and Katie Rose struggle to make it through Ellis Island. Maureen falls into a trap of lies as she weaves a story to secure a position at a department store, only to learn the store is really a front for a ring of "white slavery" traders. Maureen finds herself in a position that is far more dangerous than the one she left behind. And time is running out.
This was a fantastic book. While I find found myself frustrated with Maureen at times, I can total understand why it would be so hard for her to trust people. And it disgusts me to think that human trafficking like this took place not only 100 years ago, but that it is still happening today. I find Gohlke's reason for writing this book was true for me. She says in a question and answer time with her publisher: "I've always been fascinated by the abolition of slavery and the civil rights
movement. But I was horrified to learn that there are more than twice as many men,
women and children enslaved today than at the height of the trans-Atlantic slave trade.
This book was born of a passion to end modern-day slavery, and most of all, to ask,
"What can I do to help in a need so desperate?"
As the characters in the story continually ask "What would Jesus do?" I find myself asking the same question in this situation. Again, Gohlke offers some advice: "By speaking for those who have no voice. These are among the poor and needy of our day, in many cases the orphans that Jesus commanded us to care for. We must remember that the discomfort is ours, and the desperate need is theirs. Being a Christian, a Christ follower, isn't easy in a fallen world. Doing what Jesus did wasn't easy or comfortable. He confronted demons and hypocrites. He stood against people who cared more about the monetary value of their livestock than they did about freeing one human being from demonic possession. Jesus ate with "publicans and sinners" to the ruin of His reputation. Just as He is our example in loving one another and in protecting innocent young children, so He is our example in setting captives free, in loosening cords that bind, in rescuing women and children from prostitution, men from slavery. In many countries of the world Christians pay with their lives for standing up for their faith and/or for protecting others. I've heard it said that only in America do we expect it to be easy to be a Christian. Talking about things that are uncomfortable to our sensibilities don't seem so hard in comparison to the challenges our brothers and sisters in Christ face the world over." I hope to learn more and then seek out ways that I can speak for those who have no voice
I highly recommend this book. It is an great story that you will not want to put down once you have started. As a Christian, I also think it is a story that must be read, that must be heard, that must be shared. Thank you, Cathy Gohlke, for writing a book to challenge me.
I received a copy of this book from Tyndale House Publishers. I was not required to write a positive review. All opinions are my own.