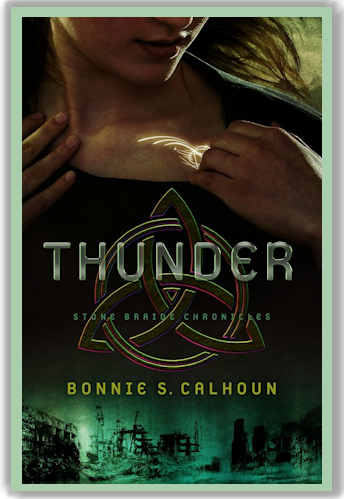 Selah has always felt different from the rest of her family. And on the day before her eighteenth birthday, she learns the man she thought was her father really isn't and her biological father is a part of the outcast group. Knowing this, Selah knows why she has always felt like an outcast. And she also knows she will never be able to live at home again. Thunder by Bonnie S. Calhoun follows Selah on her journey from home toward the truth.
Selah did not want to marry the person her father was forcing her to marry. So, she decided to try and prove her worth by capturing on of the "Landers" who float across the ocean to the coastal village her family lives in. The government the mountains will give a big reward for any "Landers" who are brought to them still wearing the mark on their face that distinguishes them. But instead of capturing her the Lander, Selah ends up befriending him and travelling with him north to find her biological father and learn the truth about who she is.
This was a great book! The only big problem I have with it is that I have to wait until the fall of 2015 to read the second book in this series. The world was captivating, the characters hold a lot of secrets yet and there is just enough romance to keep things interesting. I will certainly be reading the next one when it is released.
Book has been provided courtesy of Baker Publishing Group and Graf-Martin Communications, Inc.