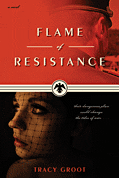 Love and courage in a time of war. This combination made Flames of Resistance one of the best books I have read in a long time.
It is World War II and Tom Jaeger is a fighter pilot who is shot down over France. He is picked up by the Resistance and his striking German features make him the key to a plan to get information from a sympatric French woman who runs a German only brothel from her home. But quickly things change not only between the fighter pilot and the woman, but also between the members of the Resistance as someone has betrayed them. Will the unlikely French woman have the courage to change it all?
Like I said in the opening, this was one of the best books I have read in a long time. It had a gripping story and once I was hooked, I could not put it down. It was a bit confusing in the beginning to keep every character straight with all of the names, nicknames and code names being used, but once it was all figured out, it made sense. And while I was able to predict the ending, it was the ending I wanted to have. I would have been really disappointed if it had been different. This is a fantastic book that I think anyone would enjoy reading.
I was given a copy of this book by Tyndale Publishers. The views expressed above are my own. I was not required to write a positive review.